Flowchart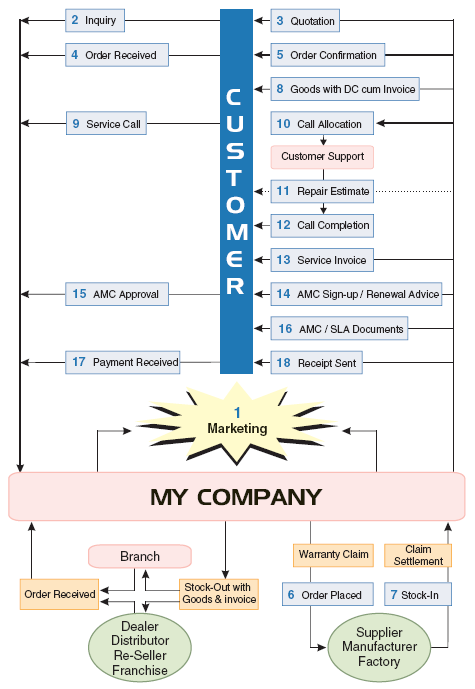 Marketing
eBizWiz CRM Marketing module will allow you to plan and manage campaigns to promote your Brands, Products and Services. It is designed keeping in mind the 4 Ps of Marketing ie. Place, Product, People and Promotion. Uniqueness of this CRM module is that you will be able to define a campaign, budget for promotion, track your marketing expense, analyze the success of a campaign and arrive at the best way to promote your Products and Services. Campaign management and its effectiveness can be measured by the Inquiries generated and recorded in eBizWiz CRM.

Our CRM modules are built to effectively give you a 360 degree view of your prospects as well as your clients.

Information captured in eBizWiz CRM Marketing module

• CRM Campaign name
• Campaign period
• Monitor marketing expense
• Objective
• Expected Sales
• Place - Geographic area of campaign
• Products and Brands to be promoted
• People responsible for promotion
• Promotion modes
• Target customers
• Promotion activities
• Expense incurred

Reports generated in eBizWiz CRM Marketing module

• CRM Campaign register
• Campaign expense analysis
• Campaign effectiveness
• Inquiries received


Value Proposition of eBizWiz CRM Marketing module

• Effective Product and Brand Promotion
• Campaign focused on target Customers
• Campaign budget V/s expense analysis
Inquiry
eBizWiz CRM Inquiry module will enable your Sales team to record and track inquiries.

Account and prospect information is available at the fingertips to facilitate sales lead and inquiry tracking.

A Salesman can input Feedback and Action of all the Inquiries handled by him/her using a single interface.

Apart from Sales forecasting you will be able to do Expense and Competitor Analysis. Information captured in eBizWiz CRM Inquiry module

• Prospective Customer details
• CRM Inquiry Type
• Category
• Sales stage
• CRM Campaign
• Promotion mode
• Product category
• Interested Products
• Salesman
• Action to be taken
• Priority

Reports generated in eBizWiz CRM Inquiry module

• CRM Inquiry register with lead analysis
• Open Inquiries (By Salesman, Customer, Category, Product category, Product, Sale stage)
• Action to be taken (By Customer, Action to be taken, Date, Salesman)
• Action taken (By Customer, Action taken, Date, Salesman)
• Orders received
• Lost inquiry analysis
• Competitor Analysis
• Sales forecast funnel

Value Proposition of eBizWiz CRM Inquiry module

• Manage inquiries efficiently
• Cross-sell, Up-sell Products and Services
• Follow-up reminders to Salesman
• Salesman performance analysis
• Better sales forecasting
• Prospect information on your finger tips
• Competitor analysis

Quotation
eBizWiz CRM Quotation module will enable your Sales team to send proposals to existing and new Customers. Quotations are linked to Inquiries.

Once follow-up date is entered, respective Sales person will be given reminders prior to as well as on follow-up date.

Provision to revise quotations and copy from existing quotations is also possible.

Lead versus opportunity analysis can be done using this CRM module. Information captured in eBizWiz CRM Quotation module

• CRM Quotation Number
• Revision Number
• CRM Quotation Type
• Customer
• Handled By Product
• Quantity
• Rate
• Terms and Conditions
• Payment Terms
• Approved

Reports generated in eBizWiz CRM Quotation module

• CRM Quotation register
• Approved quotation (By Salesman, Customer, Inquiry)
• Open quotation (By Salesman, Customer, Inquiry)

Documents Generated in eBizWiz CRM Quotation module

• Quotation

Value Proposition of eBizWiz CRM Quotation module

• Automate quotation
• Copy and Revise existing quotation
• View stocks while preparing quotations
• Promise delivery date to customer
• Opportunity analysis

Order
eBizWiz CRM Order Processing module will enable your Company to process Orders received from your Customers as well as Requisitions received from internal entities like a Branch, Engineer etc. Orders received from Customers are linked to Quotation and Inquiry module.

Also, it will enable users to place orders on Suppliers, Manufacturers, Factories etc. and monitor them.

Order tracking and monitoring is possible from entry to execution. Information captured in eBizWiz CRM Order Processing module

• CRM Order Number
• Customer name
• Customer Purchase Order number and date (Placed or Received)
• Items ordered
• Quantity
• Rate

Reports generated in eBizWiz CRM Order Processing module

• CRM Order register
• Pending orders (By Customer, Item, Delivery date)

Documents generated in eBizWiz CRM Order Processing module

• Order confirmation / Requisition
• Purchase order

Value Proposition of eBizWiz CRM Order Processing module

• Better planning and Order execution
• Track pending orders

Stock
eBizWiz CRM Stock module will enable your Company to manage inventory of Finished Goods (Models) and Spare Parts. Defective stocks can also be tracked.

Stocks management module is integrated with Order Processing, Sales, Quotations and Call Centre modules.

Complete stock management typical to an enterprise is possible to be carried out in this CRM software. Information captured in eBizWiz CRM Stock module

• CRM Stock transaction number and date
• Customer
• Items issued / dispatched
• Good quantity
• Defective quantity
• Rate

Reports generated in eBizWiz CRM Stock module

• CRM Stock register
• Stock status
• Stock ledger
• Stock level
• Stock movement
• Item order status

Documents in eBizWiz CRM Stock module

• Goods received note
• Delivery challan

Value Proposition of eBizWiz CRM Stock module

• In-depth inventory analysis
• Stock requirement analysis
• Better inventory control
• Service stocks maintained separately
• Maintain defective stocks

Sales
eBizWiz CRM Sales module will enable your Company to make Sales and Warranty Sales entries.

Warranty sales entry is typical to equipment manufacturing and selling Companies.

Stocks and pending Customer Orders will get automatically updated with this transaction.

Different Sales schemes respective to each industry can be defined and tagged to each transaction. Information captured in eBizWiz CRM Sales module

• CRM Invoice Number
• Customer Name, contact person, address, telephone numbers, zone and region
• Model / Spare Part Number
• Serial Number (will not be captured in case of non-warranty sales)
• Installation location (will not be captured in case of non-warranty sales)
• Warranty start date and end date (will not be captured in case of non-warranty sales)
• Rate

Reports generated in eBizWiz CRM Sales module

• CRM Sales register
• Sales analysis (By Product, Product category, Customer, Customer profile, Geographic location)
• Contract sign-up advice
• Non-active warranties

Documents Generated in eBizWiz CRM Sales module

• Invoice
• Contract sign-up letter

Value Proposition of eBizWiz CRM Sales module

• In-depth sales analysis
• Increased sales revenue
• Contracts revenue forecasting

AMC
eBizWiz CRM Maintenance Contract module will enable your Company to capture data related to equipments / documents that requires periodical renewals.

Data from Warranty Sales data can be transferred to this module. Fresh contracts can also be entered.

Service Level Agreement - SLA can be prepared here. Information captured in eBizWiz CRM Contract module

• CRM Maintenance Contract Number
• Customer Name, contact person, address, telephone nos., zone and region
• Model Number
• Serial Number
• Contract start date and end date
• Contract type i.e. Comprehensive / Non-comprehensive
• Contract Price

Reports generated in eBizWiz CRM Contract module

• CRM Contract register
• Contract analysis (By Product, Product category, Customer, Customer profile, Geographic location)
• Contract renewal advice
• Non-active contracts

Documents Generated in eBizWiz CRM Contract module

• Invoice / Contract document
• Contract renewal letter

Value Proposition of eBizWiz CRM Contract module

• In-depth contract analysis
• Increased contract revenue
• Contracts revenue forecasting

Service
eBizWiz CRM Service module will enable your Company to capture all the Customer issues related to the product purchased.

You will able to allocate and monitor these calls till the time they are resolved. Pending reasons can be given to monitor pending issues.

Complete history of the product and all interactions with the customer are recorded using this module. Information captured in eBizWiz CRM Service module

• CRM Complaint Ticket Number and date
• Call type (Installation, PM, Outdoor, Indoor, Outstation)
• Customer Name, contact person, address, telephone numbers, zone and region
• Model Number
• Serial Number
• Warranty / Contract number
• Warranty / Contract end date
• Complaint details
• Special instructions
• Appointment date and time
• Allocated to
• Type of visit
• Service date and time spent
• Engineer name
• Conveyance charges
• Defects found and Repairs done
• Spare part used and quantity

Reports generated in eBizWiz CRM Service module

• CRM Call Complaint register
• Repeated calls in a particular period
• Pending calls analysis
• Complaint analysis
• Defect analysis By Product, Model
• Spares consumption by Product, Model
• Monthly service and quality analysis
• Engineer productivity and response time
• Service invoice register
• Customer feedback analysis
• Service history

Document Generated in eBizWiz CRM Service module

• Service Call Sheet
• Service Invoice

Value Proposition of eBizWiz CRM Service module

• Better Customer handling
• Proactive Customer service
• Increased service revenue
• Efficient service
• In-depth service analysis
• Improved service spares management
• Analyse Customer satisfaction

Receivable
eBizWiz CRM Receivable module will enable your Company to register all the payments received from Customers against Sales, Contracts and Service transactions.

Pending payments can be monitored and Customers can be reminded of Invoice-wise as well as total outstanding during interactions. Information captured in eBizWiz CRM Receivables module

• CRM Payment Received Number and date
• Customer name
• Receipt against (Sales, AMC, Service)
• Cheque Number
• Cheque Date
• Amount Received

Reports generated in eBizWiz CRM Receivables module

• Payment received register
• CRM Payment outstanding report
• Customer-wise, Invoice-wise

Document Generated in eBizWiz CRM Receivables module

• Receipt

Value Proposition of eBizWiz CRM Receivables module

• Better cash flow
• End of the day collection
• Inform customers of outstandings
• Integrated with call centre

Features
eBizWiz CRM Features

• Powerful and TRULY web-based
• Menu driven and easy to use
• Monitor marketing expense
• Hierarchic password protection to prevent unauthorized use
• Comprehensive reporting
• Supports multi user environment
• Interactive Company-wide digital dashboard

eBizWiz CRM Facilities

• All reports are generated in MS-Excel and all documents are generated in PDF formats
• Comprehensive help available to access data which is already in the database
• 360 degree view of Customers
• Create multiple offices
• Monitor activities of Branches, Distributors, Dealers, Franchisees and Re-sellers
• Consolidated reports with graphs and analysis
• Automatic e-mails to Salesman, Customers and Company Management

Product Highlights

eBizWiz CRM helps you to work more efficiently, gain business intelligence, thus increasing your company's productivity and profits.

• 100% online crm application
• Operationally can be accessed by all 24x7x365
• Data and Reports available universally
• Low on bandwidth and high on performance

eBizWiz CRM allows you to record all interactions with your customers and maintain history of the equipments sold or serviced by your company.

• Integration between Marketing, Sales, Stock and Service functions
• Built on an experience of more than 20 years
• CRM Industry's best business practices and Practicalities of operations are in-built
• Implemented at more than 1000+ locations on All-India basis with more than 4000+ active users, hence it is a proven CRM product
• Easy to use and ready to implement with minimal Time and Cost
• Easily Customizable and Scalable with modular deployment
• Capable to handle large volume of CRM data with ease
• Fast implementation track record that is envied by our Competitors and applauded by our Customers
• Driven by Business Goals, not by Technology jargons
• Can be integrated with an ERP or other back-end software systems
• Being an Online CRM software, all offices are computerized with complete Data Consolidation across locations
• Lowest Total Cost of Ownership among available Customer Relationship Management (CRM) products.

Mobile WebApp
Coming Soon.